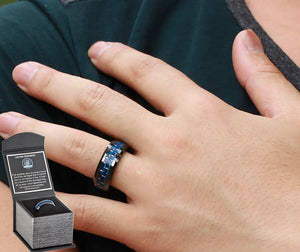 Why The Brotherhood Band?
When we first started our company back in 2007 we started it based on one idea.  To support people serving our country whether be military, firefighter, ems, or law enforcement.  Our founder, Craig Hill served in the US Marines and as a law enforcement officer and always has cherished the bond he experienced with these two groups.  He would say these are people that are willing to lay down their life for you.  As John 15:13 says "Greater love has no one than this: to lay down one's life for one's friends." 

Our first product was and still is the Brotherhood® Band  this ring was designed for police, firefighters, ems, and our US armed forces.  We chose ceramic and tungsten and the material they are designed out for several reasons, but most significantly because it is just about indestructible. They do not ding, scratch or tarnish, they truly last almost forever.  We have had hundreds of testimonials where people tell us years later this ring looks exactly like it did the day we bought it.  Each ring is elegantly lined with a vibrant line of red, blue orange or white or is available with the engraved copy to protect and to serve. The red line is for firefighters and the US Marines, the blue line is for law enforcement, EMS, Air Force, or Navy, The green line is for border patrol, forest rangers, and and the US Army and the orange line is for paramedics, EMT's, and EMS as well.
Brotherhood Bands are a symbol of the undying commitment our servicemen and women have to protect us from the evil of this world and like the ring they are tough and take all of this on as though they have some type of shield around them, but they do not, their shield is their total courage and desire to serve at any cost willing to stand between the citizens of the US and the evil that is all around us.  
If you ever spend any amount of time around military, law enforcement, firefighters or EMS they have and amazing heart for people and that is why they do what they do.  Lord knows it's not for the money.
---
1 comment